Kingdom Builders is a mission that invites all women to receive the Father's love through Scripture, Eucharist Adoration, and Planning Tools so they may embrace the beauty of their design as they build the Kingdom. 

Although we welcome women from all denominations, we are boldly Catholic. Everything we do leads women to the Catholic Church and the real Presence of Jesus within the Eucharist  – the source and summit of the Christian Life (CCC 1324). We also work closely with our Diocese of Fort Wayne-South Bend and are endorsed by our Bishop, Most Reverend Bishop Kevin C. Rhoades.
Bishop's Letter of Support to His Brother Bishops

Your parish will begin this journey by obtaining the consent of the pastor for a group of women from your parish to develop their Core Team and work through a feasibility study to bring Kingdom Builders to your parish.
If you would like us to mail your pastor our Kingdom Builders Pastor's Guide, we would be honored to do this free of charge. This will allow him to appreciate more of the specifics of our Mission. We also encourage him and his staff to listen to a Podcast: 
Link to Building Through Him Podcasts
Once we receive his approval, we require a $150 fee for our Mosaic Core Team Development program.  This guides a minimum of seven women through four weeks of building holy friendships with the shared mission of evangelization.  Each week builds on what is required to launch Kingdom Builders in your parish.  It is a comprehensive, step-by-step program that equips each member of your KB Core Team to be effective in the mission. This $150 fee can be furnished by the parish, a generous donation from a Core Team member, or shared among the Core Team. 
KB Central will contact you to walk through the timeline for launching Kingdom Builders in your parish. This timeline typically requires a three-month lead time in order to properly prepare for the mission. Although most of the cost of Kingdom Builders Central is donated by our Builders, there is a $1,500 launch fee for a new host parish which includes an amazing launch kit.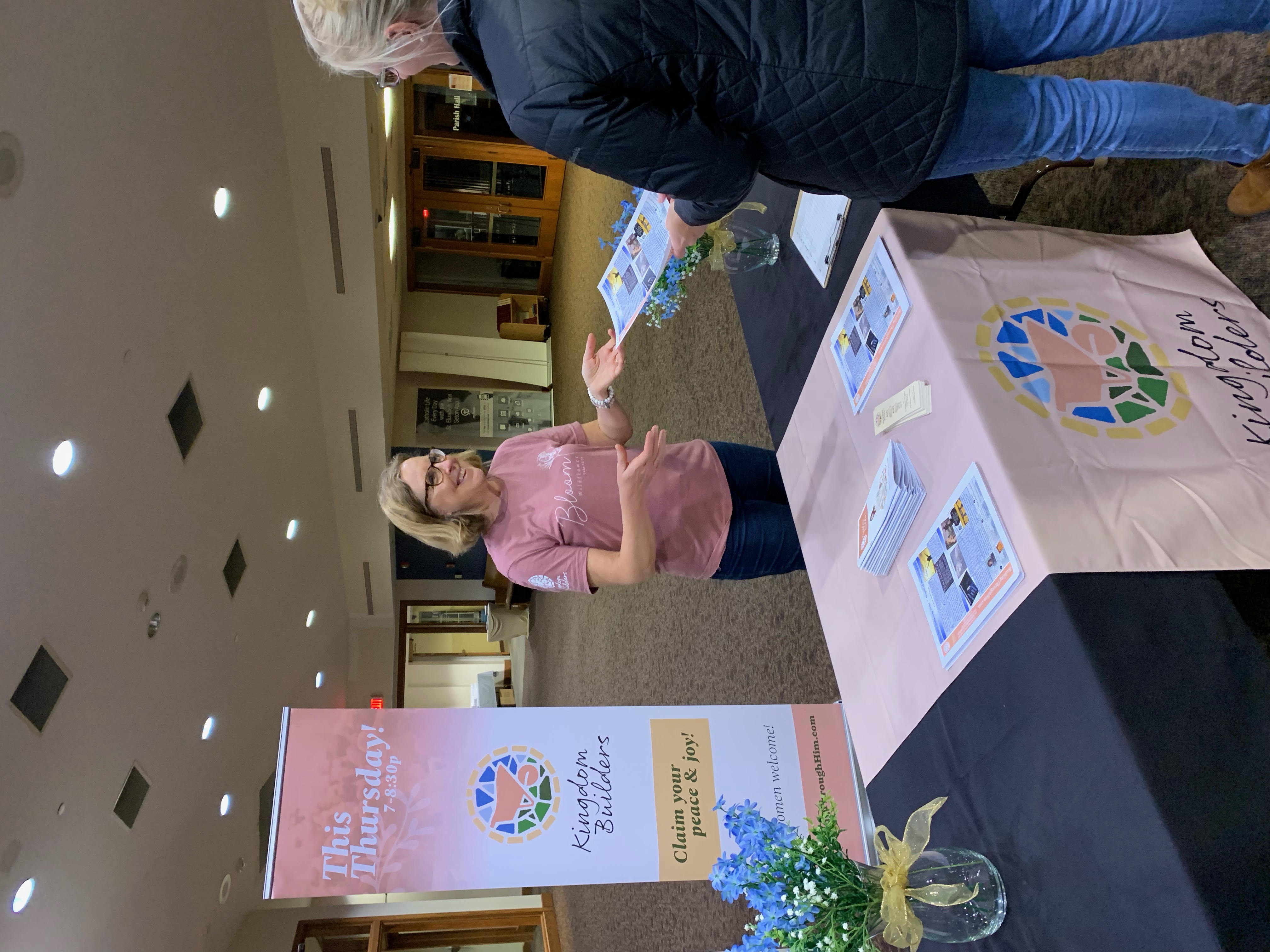 If you are interested in having a Pastor's Guide sent to your pastor, please complete the questionnaire below. We look forward to building the Kingdom with you. Bring Kingdom Builders to your Parish.

The Journey to Kingdom Builders ~ by KB Co-Chairs at Saint Elizabeth Ann Seton (Fort Wayne, IN)